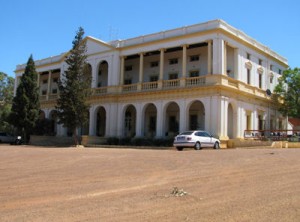 Spending some time in Perth this season? We've handpicked three destinations that are perfect for day trips or even overnight stays while you're in the area. Grab a Budget Rent-a Car, and be on your way to one or all of these unique area attractions!
1. New Norcia
Situated two hours north of Perth, New Norcia is known for the Benedictine Monasteries that call it home; in fact, it is the only destination in all of Australia that can make that claim. Guided tours of the monk's chapels are a can't miss. In addition to the monasteries, this unique town is sprinkled with many examples of brilliant architecture, and is imbued with the Nyoongar Aboriginal culture as well, making it a storied heritage sight with much to offer by way of local color.
2.Swan Valley
Wine enthusiasts should not miss Swan Valley, the oldest wine region in all of Western Australia, accessible in just twenty minutes by car from Perth. There are world-class wineries both large and small, most which offer tours and tastings for a small fee, and even a handful of breweries for beer tipplers, too, offering a large selection of  award winning concoctions for visitors to savour.
Teetotaling travellers are not left out: the area also boasts wonderful outdoor activities like  biking and golf, and there's plenty of wildlife to admire. Culture seekers will enjoy art galleries and eclectic shopping. It's wine country, so you can expect wonderful dining options, as well. With its diverse offerings, there truly is something for everyone in Swan Valley.
3. Lancelin
A popular holiday spot for Perth locals, this sea town is about 90 kilometers north of Perth and best known for its water activities and beautiful coastal scenery. Rock lobster fishing, swimming, boating and a host of popular water sports are Lancelin's claim to fame, and it offers the very best locations in which to enjoy these pursuits . The bay is full of enchanting sea lions and teeming with dolphins, a special treat sure to provide a thrill for visitors of all ages. But all of the action isn't on the water- there are also long stretches of sand dune where landlubbers can zip along in off road vehicles or dirtbikes to enjoy an offbeat sea town adventure with miles of scenic coastal views.