For many, many years the thought of a private jet charter just evoked thoughts of the rich and famous flying off to select destinations without a care in the world. It was an elitist way to fly. These days, perhaps due to the short comings of the commercial airline industry or maybe even the opening up of the world wide market due to the internet and troubled economy. More and more moderate income individuals are selecting to fly privately.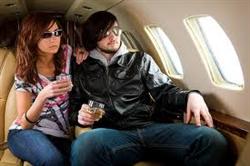 Of course, it is not difficult to understand why this is the preferred way to travel by those who have to travel a lot. It provides a flexibility and comfort that is unmatched anywhere else in the industry and for this the private charter industry is consistently commended for the ways in which they have raised the bar making the consumers expect more and making other companies try and reach the mark.
Anyone who has ever flown commercially knows it is a gamble. While many flights arrive on time and go off without a hitch, there are also those travel days from hell that make you wish you could stay out of the air forever. The days where everything goes wrong, bags get lost, planes have technical difficulties, and other passengers and airline employees are without patience. Let's face it this happens.
With the private charter industry, perhaps the most important thing that you receive for your money is consistency. The industry offers not only the highest level of service imaginable but does so in a way that you can become reliant and know exactly what to anticipate each and every time you fly. Once you start to achieve this level of comfort with a company you know that they will do you right and you can relax even further.
There are so many different locations that these smaller planes can fly into and out of as well that the convenience is just incredible and allows you to enjoy a safe flight that will get you to and from your chosen destination in the fastest way possible. You will not be held to the airlines desires but will have a flight plan that completely revolves around you and your unique needs and schedule. It is much different from anything that you have or ever will experience from the commercial airline industry.