Flying on a private charter flight you will likely find that you can get into and out of different destinations much more quickly than you ever thought possible. Of course, when it comes to getting into and out of the airport you will need to make sure that you also choose the best method of transport to get you to and from your actual physical destination on time.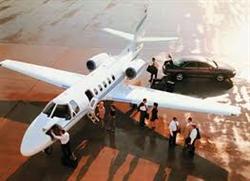 To begin with you need to gain a better understanding of the options that are available to you where you are departing from and arriving at. Usually the best mode of airport transport is a private limousine service or private car, but in many different locations this type of service may not be available. Using a professional driver you will find that they better understand the ins and outs of local roads leading to the airport as well as the time that it will take to get you to the exact place that you need to go within the airport itself and when traveling to unfamiliar destinations this can be a tremendous advantage. Especially in cases where you are in a foreign domain and where the predominant language is not your own, you will find that there are many reasons why having a professional driver can be significantly helpful.
Of course, in a region where a private limousine or car service is not available you may just opt for a form of public transport but when selecting this option you must find out the reability and safety of the mode of transport that you are choosing. Opting for public transport should not be done except at the advice of someone who truly understands the region you are traveling in because there are many variables that can affect this type of service. Usually if you are traveling on business it is good to check with those that you are traveling to see and in most cases if they know you are in need of transportation from the airport to your hotel they might just offer to send a car and driver of their own to come and get you from the airport.
Another option if you are traveling to an unfamiliar destination is that you consult with your private charter company and they in most cases and at most destinations will be able to arrange ground transportation for you without any additional cost. Since private jet charter services are full service and aim to accommodate every traveler's needs and desires you will find that this too can be a hassle free way to get from the airport to your final destination. Also having both transport services linked means that their will be good communication between both companies and this will prove to better serve you the traveler.