A private jet charter is not only a service that people use when taking off on vacation or heading on a business trip. Many people actually need to use this type of service and one of the most common reasons for individuals to actually be in need of this type of transport is because of serious health and medical issues. A person who is seriously ill and needs to be transported from medical facility to medical facility will likely need to call upon a medivac or private charter helicopter to get them to where they need to go.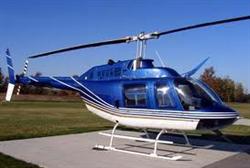 When individuals are seriously, critically ill they will most likely need someone to ride along with them and tend to them while they are in the air. At the very least to resuscitate them if need be and those that are ill also usually want family members to be able to ride along with them just in case.
A private charter service can help an individual to make all the arrangements for either their own medical transport or even that of a loved one. There are no extra charges associated with this type of flight and usually the medical staff will actually take the patient from the bed at one hospital all the way to a bed at the next one. Providing a continuum of service is of course the best possible scenario for someone who is seriously ill and this will include ground transport when necessary as well.
Most medical transport helicopters will allow a few family members to go along with the patient but because of the smaller size of these vehicles you will likely find that there is very little room for baggage on these flights. If you will be relocating to seek medical treatment over a period of time you may need to ship some of your baggage and belongings to your destination.
Being sick or having a very ill loved one can present many challenges and getting them the care that they need may seem overwhelming. Fortunately private charter helicopters are available at a very short notice and they can help you to put all the arrangements in place for your loved ones transport to a new medical facility even if it is far away. This can help to provide you with the peace of mind you need when transporting your loved one and may also help you get them the life saving care that they need.
.