The 2012 Forbes richest list is out and once again Mukesh Ambani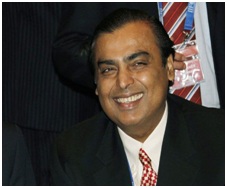 has been proclaimed to be India's wealthiest, with a net worth of $22.3 billion.  Ambani, 55, heads up Reliance Industries, a business begun by his father.  Under his reign, Reliance has grown to own the world's largest oil refinery complex as well as India's largest gas fields, making him a very rich guy in the process.  Well known in the international business world, he sits on the board of Bank of America and is a member of, and international advisor to the Council on Foreign Relations.  He gets his sports fix by supporting (and owning) the successful Mumbai Indians cricket club.  And suddenly he's become famous for his house, the huge new house in Mumbai he has built for his family of six.
The house is not just huge, it's hugely huge.  Considered to be the world's most expensive ever built anywhere, it is estimated to have cost over $1-billion.  At 27 stories high, it towers over its Mumbai neighborhood, soaring 570 feet to the sky.  The prestigious architectural firm of Perkins-Will reportedly designed it as it was being built, with no two floors in the structure alike.  At first glance, some have compared it to a child's Lego project.  A further look reveals its detail, but there's no debate that it definitely stands out.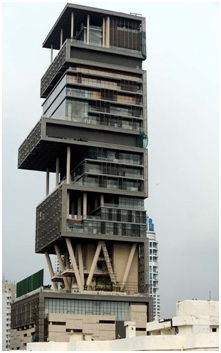 The ultramodern house is built on an acre plot on an uber-expensive street which boasts one of the world's highest property values.  A few statistics:
About as tall as an average 60 story residential building
400,000 square feet, about the same size as four Walmart stores
168 car garage on six floors, with a seventh floor for vehicle maintenance
50 seat theater
2 Refuge Floors to be used for rescue in emergencies
Three helicopter pads
An air traffic control center
Health club with gym and yoga studio
Swimming pool
Ballroom
Several guest apartments
Ice room with manmade snow flurries to fight the Mumbai heat
9 elevators in the lobby
Staff of 600
Beautiful view of the ocean.  And of the surrounding Mumbai slums.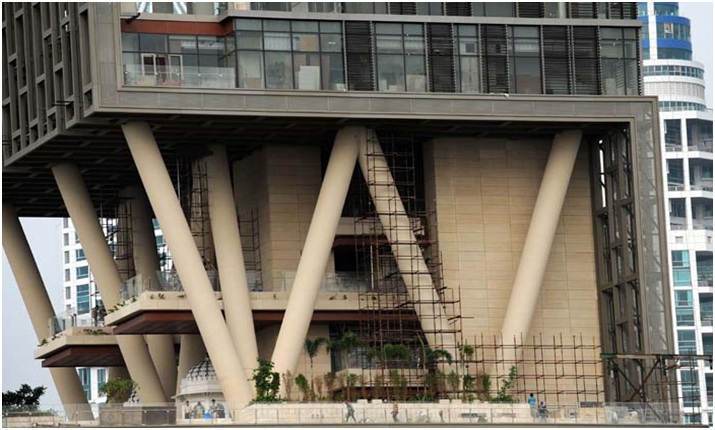 It's said that the foundation of the building has been designed to allow an additional 60 stories to be built.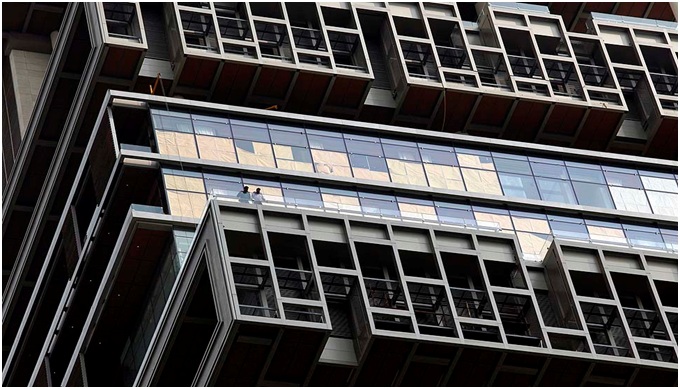 He shares the home with his wife, his three children and his mother.  Those who know him say this ostentatious display is out of character for him.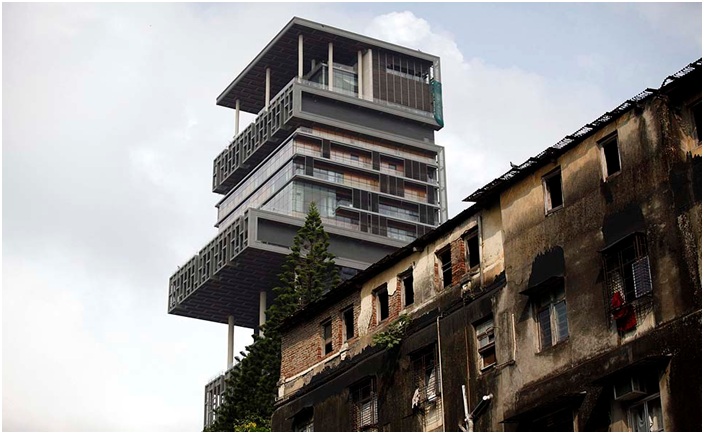 A view from the neighborhood.  All we're wondering is how long it takes the elevator to get to the top floor.