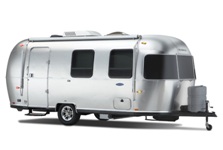 It's an icon that has been around for almost 80 years and it still holds a place of reverence in the hearts of millions.  Largely unchanged from its original design, the Airstream trailer has long enjoyed its reputation as the "Cadillac of RV's." And Airstreamers today still have the highest brand loyalty of any recreational vehicle made.  Let's face it – they're an elitist bunch who would never consider another type of travel trailer.  It has a mystique like no other.
Even though the Airstream has suffered its share of undignified nicknames through the years:  Tin Can Torpedo, Silver Bullet, Silver Cocoon, Deco Toaster on Wheels — Airstream fans laugh it off and enjoy the jokes.  The funny looking silver trailer is a proud calling card for those who march to a different drummer, and they wouldn't have it any other way.  And the truth is that even though the little home away from home has fans of all stripes, most Airstreamers tend to be retirees — specifically, wealthy retirees who have the time and the money to invest.
The idea for the Airstream began in 1927 after Wally Byam published an article in Popular Mechanics magazine entitled "How to Build a Trailer for One Hundred Dollars". He sold the mail order plans for $1 each and ended up making over $15,000.  With that money, he started Airstream and the rest is history.  Though the design today closely resembles the original, there was a period in the 1980's when the Airstream was redesigned into a squared off trailer painted beige and held together with glue instead of rivets.  Airstreamers called it the "Squarestream" and were shocked by the blasphemy.  That ugly trailer, the Argosy, didn't sell and thankfully went away quietly.
So what's the draw?  Well, they're made in the USA, largely handmade, and they are built to last.  The quirky curved shape is actually an aerodynamic asset and the insides make excellent use of the space with not  a square inch wasted.  Though they look small from the outside, their efficient and creative interior designs have set the standard for other trailer manufacturers.  And their finishes and furnishings are top quality throughout.   Airstreamers especially like the fact that they can be parked and detached from the towing vehicle, providing the freedom to make short trips while leaving them behind in the campground.
Did You Know:
NASA uses Airstreams exclusively to transport astronauts to launching pads
Airstreams are owned by dozens of Hollywood celebrities including Tom Hanks, Sean Penn, Johnny Depp, Denzel Washington, Sandra Bullock, Lenny Kravitz and Brad Pitt
The original 1936 Airstream Clipper sold for $1200.  Today's model goes for around $100,000.
Nearly 70% of all Airstreams ever built are still on the road
Donald Trump challenged contestants on his reality show 'The Apprentice' to create a mobile business with the Airstream as its foundation
On her trip to Afghanistan, First Lady Laura Bush stayed tucked comfortably into an Airstream which had been loaded onto a military C-17 cargo plane
Cape Town, South Africa features the world's only penthouse trailer park, comprised of several Airstreams atop the roof of a luxury hotel.  They come with luxury rates and are consistently booked solid.
Factory tours are a huge draw at the Airstream factory in Ohio
With its timeless construction, continued improvement, and its high resale value, the Airstream is destined to remain an icon on the roadways.  Today there are Airstream clubs, rallies, caravans and even an Airstream FM radio station.  For the curious, Airstream dealers offer short term rentals including the pull vehicle to allow people to find out what the Airstream mystique is all about.  What's to lose?