Real estate professionals everywhere will state that the most important factor in choosing a home is location, location, location. And Malibu is no exception. The dream of living in Malibu is a fantasy only a few will ever experience, with property prices rivaling those of Beverly Hills. And of course, Malibu has always been a quirky hideout where rich pay big money to hang out. The exclusive beach community has been a drawing card for Hollywood's elite for decades. While the Malibu Colony located right on the beach attracts some, others prefer the amazing views from the cliffs above. Some of the world's most expensive homes are here, regularly selling for up to $40 million, clearly out of the price range of all but a few.
| | |
| --- | --- |
| | |
But for those with smaller budgets, who crave the location and the cache Malibu brings, there is another solution — it's the Paradise Cove mobile home park. Positioned within a few hundred yards of multimillion dollar mansions, it sits quietly perched up the hill right above the beach with its own multimillion dollar views. Originally an RV park, it was converted in the early 70's to its current incarnation as an exclusive 260 lot mobile home park. It features things you might expect in any residential community, including a club house, tennis courts and a children's playground. And to keep the riff-raff out, it is protected by a guard house. Residents also have access to the private Paradise Cove beach just a quick walk or golf cart ride away. But that's where the similarity with other trailer parks ends.
| | |
| --- | --- |
| | |
These trailers don't come cheap. They commonly sell for more than $1 million, with one recently on the market for $2.5 million, marketed as 2300 square feet, 2 bedrooms, 2 baths, outside deck and beautiful views. While numbers like that are enough to send most to a cardiac unit, most of these trailers have been tricked out like any other fancy house with granite countertops and Sub-Zeros in the kitchen. They've been upgraded to feature walls of windows to take advantage of the extraordinary views. And the telltale trailer outsides have been disguised with custom wood or stone cladding combined with lush landscaping.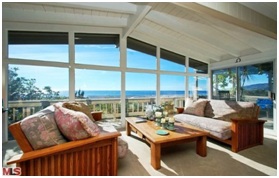 And the neighbors aren't exactly what might be expected in a trailer park either, with some of Hollywood's rich and famous choosing Paradise Cove as home. Recently, writer Tom Shadyak of Ace Ventura fame decided to simplify his life, sold his 17,000 Pasadena mansion and settled in to Paradise Cove where he owns two trailers, one for guests and one where he writes with his team and sleeps. Pamela Anderson has a place just up the block, and Matthew McConaughey often takes advantage of the excellent surfing from his Paradise Cove home base.
The residents say there's something about Malibu that brings out the good energy in people. Good neighbors are plentiful and are respectful of one another. Maybe it's the proximity of living so close or maybe it's the kitschy fact that these are fancy trailers, but Paradise Cove remains a coveted hideaway. And even though it is just a rental park where residents pay no property taxes, the monthly lot rental fees run up to a whopping $2800, serving as a reminder that trailer life is just not what it used to be.
Catch a private jet to Malibu and spend a weekend getting away from it all. Private Jets Charter is currently booking.