With the news that Facebook is about to offer an IPO with shares valued between $28 and $35, the world is reminded about all of that money and is wondering how the original Facebook Four will fare.  Beyond that, we realized we really don't know much about their backgrounds or what they've done since they initially struck it rich.  We've encapsulated some highlights here: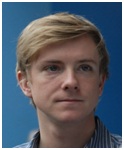 Chris Hughes– Age 28, born in Hickory NC, the only child of a salesman and a public school teacher.  He attended America's oldest private school, Phillips Academy in Andover, MA, and later, Harvard University, during which time he cofounded Facebook before graduating.  After cashing out of Facebook, he developed the online MyBarackObama.com political campaign for the 2008 presidential race and was instrumental in choreographing its successful online outreach.  Later founded Jumo, a social media site dedicated to connecting individuals with non-profits to create a resource for positive change.   In late 2011, he released Jumo's source code to allow the public access to its functionality, availing work on the more than 250 social causes in its basket, from "human trafficking to childhood obesity."  Recently he became publisher and editor in chief of New Republic Magazine, a 100 year old entity highly respected in the journalism world.  Estimated net worth after IPO:  $1.1 billion.

Dustin Moskovitz – Age 27, born in Gainesville, FL, he grew up in a middle class family.  He attended public school at Vanguard High, where he graduated from the IB Diploma Programme, a two year course of study which qualifies students for entry to higher learning.  He later attended Harvard University where he studied economics for two years.  After meeting Mark Zuckerberg and forming Facebook, he dropped out to work further on Facebook.  He later left the group to pursue other ventures.  He invested in several internet startups and launched Asana, a concept he described as doing for your workplace what Facebook does for your personal life.  Asana has been embraced by the silicon valley elite and is currently being used by Twitter, Uber, Foursquare, NationBuilder, Rdio, LinkedIn and others. He's signed on to Bill Gates and Warren Buffett's Giving Pledge to invite the richest Americans to commit to donate the majority of their wealth to charity.  He also has started Good Ventures, a philanthropic foundation dedicated to charity.  Estimated net worth after IPO:  $7.6 billion.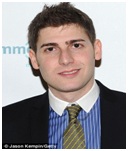 Eduardo Saverin – Age 30, born in Sao Paulo, Brazil to a family of affluence.  A childhood kidnapping threat against him prompted his family's move to Miami, where he received his education at Gulliver Academy, a private college prep school. He later graduated from Harvard magna cum laude. While an undergrad at Harvard he took advantage of lax Brazilian insider trading laws to make $300K from oil investments. He co-founded Facebook with Zuckerberg and was its first CFO.  He later became estranged from Facebook after a financial controversy of shares, and his court case was eventually settled with a non-disclosure agreement.  In recent years he's taken residence atop the tallest building in Singapore, where he is well liked in social circles and enjoys Singapore's nightlife with his longtime girlfriend. He has recently renounced his U.S. citizenship allegedly to avoid paying taxes on earnings from the pending Facebook IPO.  Estimated net worth after IPO:  $4 billion.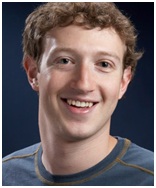 Mark Zuckerberg – Age 27, born in White Plains, NY, to a psychiatrist mother and a dentist father.  As one of four children, he attended public school before transferring as a junior to the prestigious Phillips Exeter Academy where he excelled in math and science. By graduation, he spoke and wrote four non-English languages including Latin and ancient Greek, and was captain of the school fencing team.  He later attended Harvard before dropping out to further develop Facebook.  The rest  is history.  Estimated net worth after IPO:  $17.5 billion.
Little known Zuckerberg facts :
While in high school, he was offered jobs by Microsoft and AOL as well as $1 million to continue developing a media player app
He doesn't own a TV
He's red-green colorblind and sees blue the best.  Facebook Blue
A recent Facebook bug exposed private pictures of him, including one at the White House with President Obama.
If there is a moral to this story, it is that an excellent education does seem to matter, especially if there is a brilliant and creative mind to take advantage of it.