We all would like to think that we will always be able to book our travel plans in advance but many times this just isn't possible. Whether your last minute travel needs are caused by an unexpected blessed event like an elopement, sudden birth of a new family member or a more tragic event like a loss of a loved one you are likely to find that the need for immediate travel is sometimes unavoidable.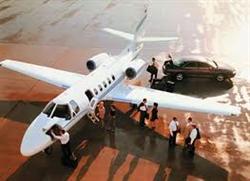 Now of course there is always the option to try and find a commercial flight that will accommodate your travel needs but in the current economy some regions and airlines are only offering a flight in or out once a week and even if you can find a flight into or out of the destination of your choice, it is likely that it will take you days to get to your destination city after they re-route you a bazillion times. In the end you will arrive to your destination tired and frustrated and depending on the route taken and the number of delays you experience along the way you may wind up to your event too late to attend and this would not be the first time a traveler has had this experience.
If you select to call a private charter company as soon as you receive word of your need to travel you are likely to get off the ground in a matter of hours and the wonderful news is that you will be flown directly to the destination of your choice without instance. As a matter of fact most people are amazed at how quickly they can get where they are going.
But this is not the only benefit of calling upon a private jet Charter Company to fly you to where you need to go and another wonderful benefit is the level of customer service they can offer you. They are more like a full service travel agency and they will make sure that you have a wrapped gift for the event, that ground transportation awaits you when you arrive, and will even help to make your hotel reservations and even dinner ones if you would like. Whatever you need done on a moment's notice just ask and it shall be addressed for you at no additional charge.
Hopefully you will always be flying last minute for good reasons but if for some reason you aren't it is still nice to know that no matter what your reason for last minute travel that you have a travel agent standing by waiting for your call. It is honestly just that simple. One call and viola you are on your way to any destination in the world.