These days it is not uncommon for even a small business to be testing the international waters. After all the more different countries that you can do business in the stronger your business will be. Doing business in another country can be made simpler by using the internet but still there may be occasions where an in person meeting is required to seal the deal and in this case you may find yourself with the need to fly your business contacts to you or to take off to a foreign country to manage your business.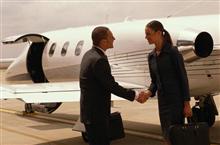 Either way you look at it you will probably have to do some traveling for meetings or to follow up on a product or service and while internet chatting has become a common practice for most businesses nothing compares with meetings that are conducted face to face. Now anyone who has to travel a lot already knows that they don't want to spend countless hours sitting in airports and switching flights just to get to another country.
If you are looking for a better and more professional way to fly your colleagues and yourself to international destinations for business purposes then you will definitely want to consider flying on a private jet charter. Making arrangements for this type of flight are simple and even if you need to fly on a last minute, emergency trip they will easily accommodate your travel schedule.
Your employees will also be able to use this time to relax or have a meeting and get some work done. Since the private charter industry offers your employees countless quiet hours of flying they will be able to get more done in the air during their travel hours which will help them to prepare for their meeting with your clients.
And when you need to fly your clients in from an international destination don't you really want to show them that they are dealing with a professional business? Surely you will make an incredible impression if you send a private charter jet to pick them up and fly them to meet you on business. This may surely seal the deal without even having to meet with them.
Many companies are booking private charter flights each and every day. It is the best way to make a professional impression, to get more accomplished in the air, and to travel on a more suitable schedule based on your needs. Overall private jet charters work really well for businesses that are dipping into the international pool.