Some travel can be anticipated well in advance. Planned holidays and vacations can be booked and tickets purchased long before the travel dates arise. Other travel can not be so easily foreseen and while it is nice to say that booking well in advance can save you a lot of money it just simply is not always possible.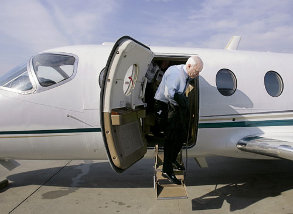 There are many reasons that people choose to fly using a private charter service and the top reason is convenience. If you have ever had a sick relative or an unexpected business meeting arises on short notice then you probably realize how difficult and costly it can be to deal with commercial airlines in these situations. Not to mention the fact that you will still have to waste several hours in airport terminals trying to get on the plane to get to your destination.
It is for this reason that many choose to hire a private jet when they are in a hurry so that when they arrive at their local airport they can simply board their plane and go. No long lines or big hassles everything will be ready and waiting for you as you requested. And since they take care of every detail you can even have them make last minute hotel accommodations or arrange for ground transportation when you arrive. It is those little things that can make a last minute crisis easier to get through.
And if you are traveling last minute to visit a sick friend or relative they can even set you up with some flowers or a stuffed animal to take along to help cheer them up. These are all things that you would have to take care of in addition to booking your flight and having a full service company that will take care of all these extras as well as arranging the perfect travel experience can really help to put your mind at ease and make this time a little less stressful for you.