It is a study in minimal elegance.  This week the final pet project of Steve Jobs' life took on a life of its own with the reveal of his stunning superyacht, christened Venus, after the goddess of love and beauty.  For the final six years of his life, Steve Jobs worked on the yacht design in collaboration with designer Philippe Starck who's known for his simple yet sensible designs.  And the finished product has Steve Jobs written all over it.
The ship was unveiled on Sunday at the yards of shipbuilder Koninklijke De Vries in Aalsmeer, The Netherlands with a ceremony attended by Jobs' widow Laurene and three of their children.  The family presented thank you notes and an iPod Shuffle with the name of the yacht, Venus, engraved on the back to each of the workers who constructed the ship.
Said to be between 230 and 260 feet long, the vessel is striking in its appearance, and not surprisingly, it looks like it could be the newest product from Apple, the iYacht.  Finished in glimmering white, the first noticeable feature is a seamless band of large square glass windows running along the side from the bow halfway to the stern.  To say glass is prevalent is an understatement, as the main living area also features a 40 foot wall of glass nearly 10 feet high.  As a matter of fact, the glass was specially designed by the chief engineer of the Apple stores to withstand the heavy weight of the ship.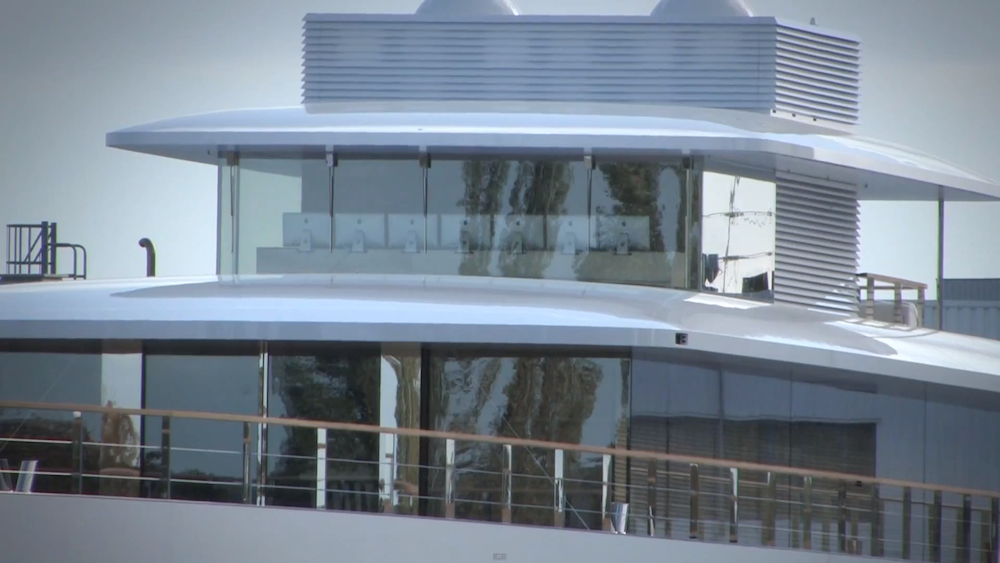 Made of aluminum, the state of the art structure presents a lighter weight and less mass, which will allow faster speeds with less fuel usage.  The wheelhouse sits atop the vessel, reminiscent of a stylized pagoda with a huge walls of glass.  Inside the wheelhouse can be seen a row of seven 27 inch iMacs which will be used for steering and navigation.
In his biography of Jobs, author Walter Isaacson described the clean lines of the yacht with "perfectly flat" teak decks and large glass panes for the cabin windows.  In a poignant quote from the book, Jobs said,  "I know that it's possible I will die and leave Laurene with a half-built boat," Isaacson quoted him. "But I have to keep going on it. If I don't, it's an admission that I'm about to die."
And now that it's finally finished, it stands as fine example of how Jobs took a well thought out approach to sensibility and taste in design.