Private jet bookings skyrocket for flights to Cannes at this time of year.  If you like crowds, chasing movie stars, and spending money, now is the time to visit.  The 65th Annual Cannes Film Festival begins again on May 16thfor a 12 day run.  This year 54 films will be competing and the town is wound up and already humming with excitement.  While you'll need credentials for access to the festival, there is plenty to do and see while you're there.  The nightclubs and shops will be teeming with the film world's darlings and will present great opportunities for rubbing elbows with the be's and the wannabe's.
The stars have already begun arriving early.  By the beginning of the festival, the exclusive resort destination is expected to be invaded by over 30,000 film industry professionals, shadowed by several thousand paparazzi and journalists.   While all of the French Riviera can be considered expensive, Cannes gives special meaning to the statement "If you have to ask how much it costs, you probably can't afford it," It is a consumer's paradise where it's not uncommon to see little white haired ladies driving their Ferraris out on shopping trips.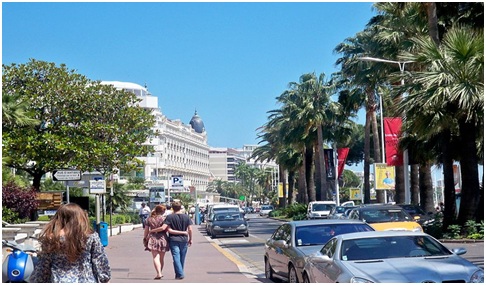 The main street, La Croisette, has been described as Rodeo Drive on steroids with a beach.  On a stroll there you'll find top luxury hotels, restaurants and designer shops, all providing the ultimate opportunity to spend.  For the Film Festival, hotels book at top rates, averaging more than $1100 per night. Expect dinner to start beyond $300 for the chicken.  And if you are looking for a cocktail, hotel bars are as good a place as any to stargaze.  The top nightclubs generally sell drinks by the bottle for your table, and that is taken care of as part of your admission, so expect to drop upwards of $500 before you get your first sip.
Is catching a glimpse of Brangelina or Clooney worth it?  You call it. We will see you on La Croisette.  Au revoir.